Online Exchange with UPC Perú Report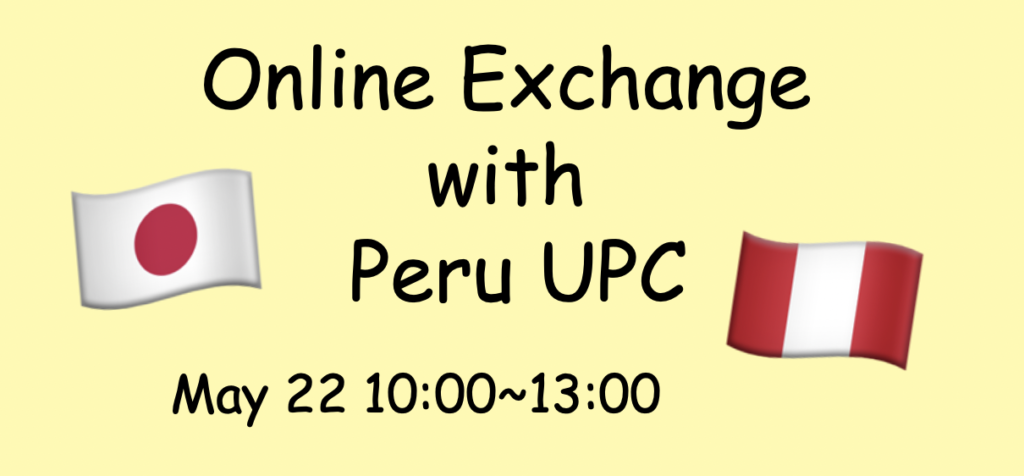 This time we had an Online Exchange with the University of Peruana de Ciencias Aplicadas (UPC) in Peru, the first exchange with South America for IVSA-J!
About IVSA UPC
University of Peruana de Ciencias Aplicadas (UPC) is a comprehensive private research university accredited by the WASC Senior Colleges and Universities Commission (WSCUC), one of the six regional accrediting agencies in the United States and one of the most renowned universities in the world.
Everyone was kind and friendly and very easy to talk to.
timetable
05/22/2022 10:00am – 1:00pm (JST)
Introduction 
Perú exposition(education system)
Japón exposition (education system)
Perú exposition(culture or strange animal for your country)
Japón exposition (culture or strange animal for your country)
Play of questions of Japon 
Play of questions about Peru 
Exposition for the Dr.(cardiology)from Peru 
Conclusion ( we can talk about what you want)
After presentations on education, culture, tourist attractions, etc. in each other's countries, we asked each other what we wanted to ask each other freely.
Commissioners' Comments
At the meeting, I realized how poor my English was. Even though I was late in responding because I couldn't hear, they waited very kindly for me and were very helpful in conversing with me. I can only express my gratitude.
I would like to interact more with people from all over the world, so I thought I would start speaking English……. First of all, I would like to learn at least basic conversational sentences.
Upcoming Events
We will have an Online Exchange with people from the University of Lima on 7/2!
Veterinary students who are considering participating are requested to DM the official IVSA-J bureau account or contact the bureau staff through social networking sites.
Originally posted 2022-07-07 16:55:14.
Follow me!