Online Exchange with Malaysia language exchange Report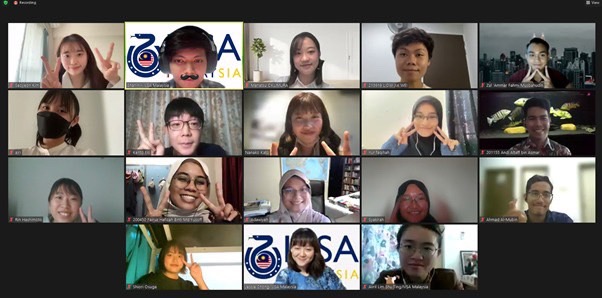 Unlike the usual cultural exchanges, this time it was a "Language Exchange," a new type of exchange in which participants share the language of each other's country.
About IVSA Malaysia
 Jessie, the President, speaks very good Japanese. There are not many executives in Malaysia itself, and I think they are very busy because they bring people together for each event. And yet they are a very stellar team that works very energetically.
 Shahin, who led this exchange, is very friendly and helpful. Whenever there was something we didn't understand, he taught us by rephrasing a lot until we understood.
 The participants of the Online Exchange led by these two were also very friendly and helpful…. It was a time filled with the peace of mind to know that everyone had the warmth of the two of them!
Event Details
15min each Self-introduction in English
15min each Learning:Self-introduction in different languages
15min each Learning:Simple Conversations in different languages
30min each Practice:Self-introduction in the other country
20min each Practice:Simple Conversations in the other country
30min Activity:Animal BINGO
We taught each other our national languages and had a friendly time. I felt very happy to be able to have them work hard on their own language.
Postscript by Committee Members
〜Leader : Seoyeon〜
 Since this was the first time for me to participate in a language-themed exchange, I frequently chatted with Shahin, the leader of the Malaysia team, about the arrangements, images, and requirements, and we actually had meetings to discuss and prepare carefully for the event.
 We were able to successfully conduct this Online Exchange, and I believe it was a great success in terms of participant satisfaction.
 It was a lot of fun to try new programs that we have never tried before, such as the Buddy System and the Language Bingo game. We will continue to improve upon this event and hope that everyone at IVSA-J will be able to experience Language Exchange as a new form of exchange!
 It was my first time to be a leader and I was very inexperienced and anxious, but with the help of Nanako, the head of the GE department, and Jesse on the other side, I think we were able to complete the event successfully. The participants from both countries were very active, which made the exchange even more enjoyable. Thank you very much!
Upcoming Events
5月22日 10:00〜13:00(JST)
We do an online exchange with UPC in Peru.
The content is as usual in the Exchange: culture, education, clinical cases, etc.
Originally posted 2022-04-26 23:54:38.
Follow me!