IVSA-J IP Department's spring lecture "Sensabanvets"!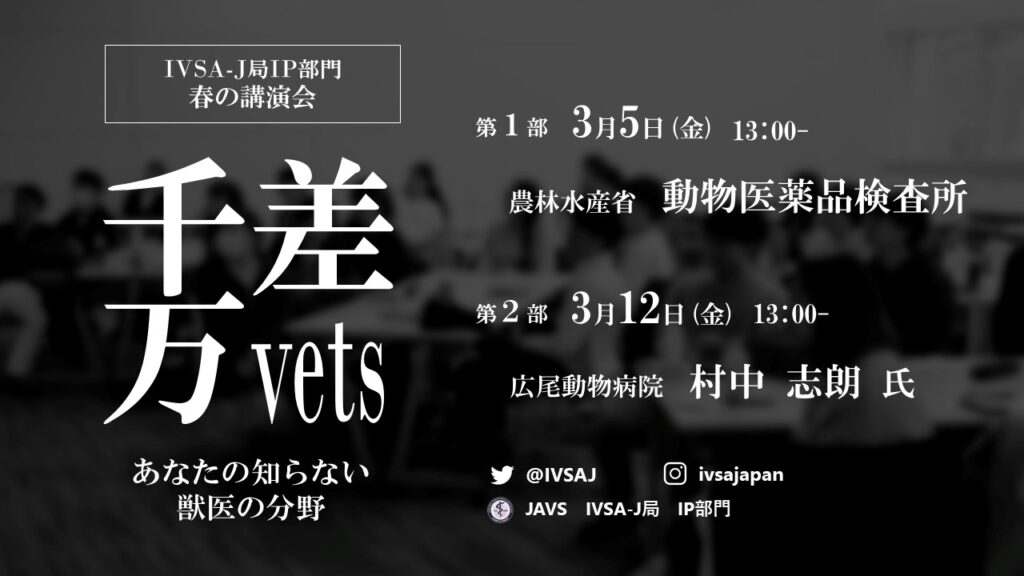 Hi, this is IVSA Japan🇯🇵. We held an online event called "Sensabanvets" (pun on a four character idiom "Sensabanbetsu" meaning " infinite varieties"). We invited veterinarians to give us some lectures.
On the first day, Mr.Kawashima,Ms.Nakajima,Mr Kikutani and Ms.Furuya ,who work in the
Ministry of Agriculture, Forestry and Fisheries taught us about what it was like to work in National Veterinary Assay Laboratory.
On the second day, we invited Mr. Muranaka who is the president of Tokyo Veterinary Medical Association. He gave us a lecture on how important the cooperation of primary medical care and secondary medical care were in order to fulfill the demand for advanced treatment.
We also did a workshop so that participants could think by themselves and had a deeper understanding of the topic.
We would like to give a huge thank you to the staff in the
Ministry of Agriculture, Forestry and Fisheries and Mr. Muranaka for the meaningful and valuable lecture. Hopefully, we can do an event offline this year👋🏻.
Originally posted 2021-04-09 09:00:00.
Follow me!